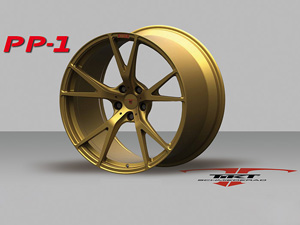 The latest and at the same time sportiest TIKT forged wheel for sports cars to date. The filigree, stepped milled Y-design of the spokes already gives an idea that the PP1 is an extremely lightweight sports wheel.
During development, special attention was paid not only to weight optimization and optimum heat transfer for the brake.
No compromises were made in terms of material and mechanical design either, to ensure maximum performance with maximum safety. Like all TIKT forged wheels, this wheel already runs perfectly round ex works and is high-strength - perfection down to the last detail.
The PP1 was presented on the Ferrari 458 Speciale at the Essen Motor Show 2014 to test market reactions to this wheel. Based on this, a compatibility list will soon be published for which vehicles this emotionally designed wheel is suitable
TIKT PP-1 FORGED WHEEL 9X19 & 12X20 FOR FERRARI 458/SPECIALE
Currently only available as a custom design or motorsport wheel.